The Worcester Business Center boasts a long history as a landmark of Worcester Industry.
Built in 1917 and originally designed for manufacturing, the building was bought and rehabilitated by the Thom McAn shoe corporation in 1965 and served for many years as the company's headquarters. Until it's closure in 1996, the facility housed hundreds of Thom McAn employees dedicated to providing high quality footwear to people across the country.
In May 2008, the current ownership group purchased the property and began extensive improvements including the full replacement of the existing building facade with a contemporary masonry panel system, installation of over 600 commercial grade glass with metal frame window units and the complete renovation of over 100,000 square feet of existing warehouse space to first class suburban office space. In addition, a 175,000 kW solar panel system was installed on the majority of the roof surface.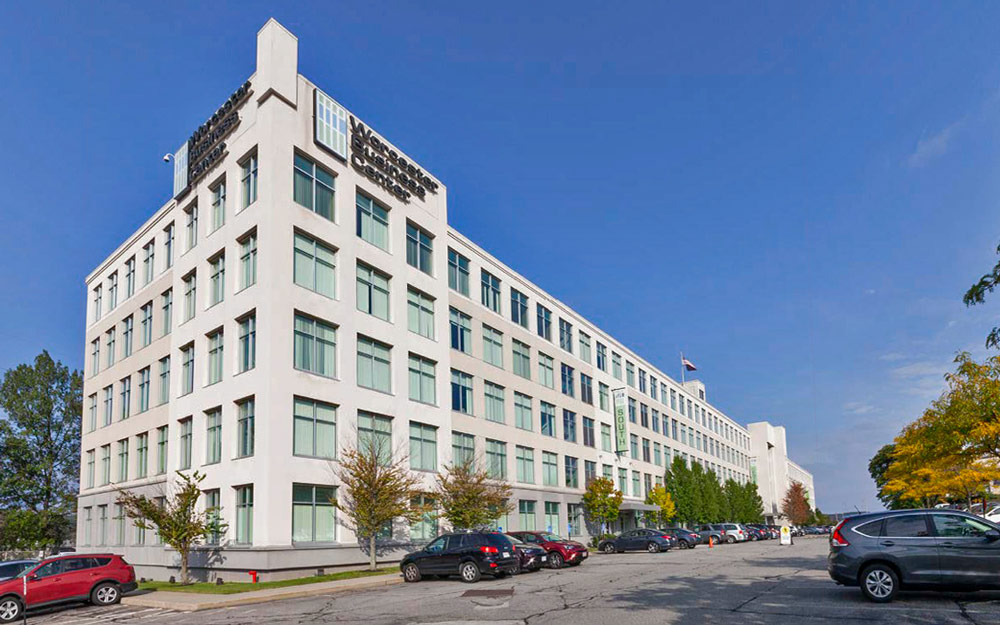 Photos: Chelsea Creekmore & Jason Ouellet/Destination Worcester
Known as the Heart of the Commonwealth, Worcester boasts the second largest population base in New England and a key central location within Massachusetts. On the cusp of revolution, this city is actively moving away from its industrial roots toward a modern, amenitized urban landscape. Worcester's latest wins include landing the Woo Sox minor league baseball team, and expanding flight offerings at the Worcester Regional Airport. Public and private developments have brought new office, hotel, residential, retail and other commercial space to the city center — helping bring an 18-hour vibe to downtown Worcester.
As a quintessential college town, Worcester is home to 35,000 college students across nine colleges and universities. Vital to the city's economy, these institutions bring a wealth of opportunity to the region through
academic collaborations, internships, research and employment. Many of these schools, including WPI, Assumption College and Holly Cross, consistently appear in the U.S. News & World Report rankings as well as the Princeton Review. Worcester maintains a strong economic base, with healthcare, education, biotech, finance, manufacturing and trade representing key employment sectors in the city. Major employers include UMass Memorial, Reliant Medical Group, College of the Holy Cross, Abbvie, Blue Sky BioServices, Hanover Insurance and Saint Gobain.
The quality of life is second-to-none in Worcester. The restaurant scene is booming and craft brewing has exploded here while cultural offerings, recreation opportunities and other entertainment options continue to expand. Housing affordability, key transit access (including a direct MBTA commuter rail line to Boston), and a growing entrepreneurial ecosystem are other crucial components to Worcester's renaissance.
The building was developed and is managed by Franklin Realty Advisors LLC a full service real estate development, commercial property management, and advisory firm headquartered in Wellesley, Massachusetts with specific expertise in public/private partnerships and historic preservation projects throughout the United States. The company, formed in 1988, offers the highest quality services necessary for the planning, acquisition, development, construction, financing, marketing and management of diverse real estate assets.
The marketing and leasing for the building is handled by Kelleher & Sadowsky which has been serving the Worcester and Central Massachusetts commercial real estate market since 1981. Since then Kelleher & Sadowsky have earned a reputation as the area's premier commercial real estate company by forging strong relationships with landlords, tenants, and a wide network of business leaders. They have consistently achieved outstanding results for its clients while conducting business with the utmost integrity.